Not long after the Bills most recent disappointment, in the form of a loss to the Indianapolis Colts, Stevie Johnson made some remarks to the media regarding who should handle the offensive play calling duties for the team. Then, less than a full day later, Johnson qualified those remarks by saying that he wanted Ryan Fitzpatrick to have the flexibility to make more audibles at the line of scrimmage. In Johnson's own words, "What ended up coming out was me talking about play calling. But it was really about an audible."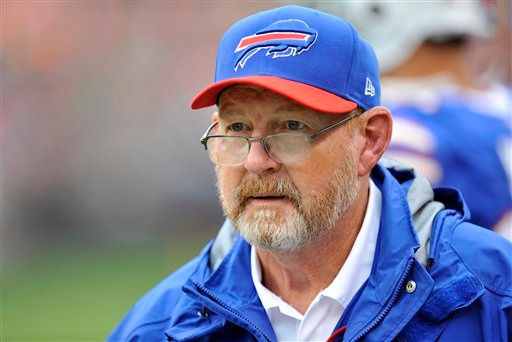 Did Johnson really miscommunicate the point he was trying to make? Or, did he actually make the point he was trying to make in the heat of the moment, during the post-game press conference, and then have to retract those words (or, call an speach audible) in the spirit of team unity? I'm going to argue for the latter.
Johnson's first comments were the right ones. Chan Gailey needs to relinquish play calling duties. Should he give up those play calling duties to the Harvard-educated QB? I don't think so. Maybe Johnson's "rephrasing" was also a good point, in that the Bills should allow Fitz the ability to audible more often, but let's face it, he's no Peyton Manning.
Take a look at this breakdown of quotes, provided by Gailey in response to Stevie Johnson's original (heart-felt) comments:
"If you ended up doing that every time, then he has to know every situation about pass protection."
The "that" he is referring to is giving Fitzpatrick the ability to call plays. Shouldn't Fitz know, and every other QB on any NFL roster for that matter, what pass protections they are going to use for which plays, and what types of pressures they could be facing. The quarterback should be just as prepared as the Offensive Coordinator (or Head Coach, in this case) to run the offense heading into every game, and if he isn't, then that's a huge fundamental issue.
"He has to know how many times you want C.J. Spiller to get the ball."
Uh. Really?! I don't think YOU, Mr. Gailey, know how many times to give C.J. the ball. Since the Bills' bye week in week 8, Spiller has averaged just under 13 carries per game. During the same time period, Fred Jackson averaged just under 11 carries per game (keep in mind Jackson missed a week due to injury, so this is an average of the three out of four games in which he appeared). In total, the Bills have averaged about 21 carries by a running back, per game. Looking around the league, Ray Rice, during the same time period, has averaged 20 carries per game, and Arian Foster has been handed the rock over 25 times a game.
Now, I'm just as much of a Fred Jackson fan as the next guy, which makes it hard to admit that he is no longer the feature back. But, I do believe he still has a role as a third-down, goal line back. C.J. is the feature and not just in the backfield, he is the offensive stud. Period. He is the playmaker and should be carrying the ball well over 13 times a game. This a huge missed opportunity for Gailey and an even larger disservice to the offense, the team and the fans.
And, then there's this gem...
"He has to know do you want to run it here to set up third down? You've thrown it a couple of times, he has to know 'lets run the football here.' There's a lot more to it than just seeing what they do and calling a play."
I don't even know where to start here. In fourth quarter situations where the game has been on the line, Gailey has completely abandoned the run game in favor of the pass, with terrible results. In the Week 10 match-up against the Patriots, with 28 seconds left in the game Fitz had the Bills deep in New England territory on the 15 yard line. Gailey dials up a pass - intercepted. Brady takes a knee to end the game. Bills lose 37-31.
Another example: Bills-Titans, Week 7. There's 3:55 left on the clock in the fourth quarter and the Bills are winning 34-28. Instead of handing the ball off and running out the clock, Gailey dials up a pass - intercepted. This sets up the game winning drive by the Titans, who end up winning 35-34.
See the trend, yet? Fitzpatrick is not the play maker. The fans know it and I'm pretty sure he knows it, too. The only problem is that Gailey doesn't know/understand this point. Instead of putting the ball in the hands of his play making running backs (either of them!), he consistently dials up a pass (often in empty sets) and Fitzpatrick crumbles under the pressure.
So, what's my point? Get rid of Gailey? Get rid of Fitz?
While I hope that Buddy Nix stays true to his word about looking for an actual franchise QB this offseason, although I think it will be tough to find and that the team missed some great opportunities in the past draft (see: Colin Kaepernick and Russell Wilson), that's not the main point.
I also don't think that Gailey should be fired. Nix has already said that he's keeping Gailey around after this season. "It's the age-old thing, and they've done it around here for years. They start over about every three years. What that does is make damn sure that you don't make it. That's what it does," said the GM. It's a fair point. Beyond that, I like Gailey's style. He's a blue-collared coach, coaching a largely blue-collared team, in a blue-collared town. He fits.

Believe or not (you might have a hard time believing it after I've spent the better part of the past 900 or so words condemning the man) I really do think Gailey is a good Head Coach, and a good offensive mind. He has a great screen game, great pass designs, all the elements. But, I think he is a terrible play caller. At some point, I think Gailey needs to turn the reigns over to someone not named Ryan Fitzpatrick, such as an Offensive Coordinator (imagine that!). The only problem now is that I don't think that play caller is on the current Bills coaching staff, but I guess he could be.

I propose this: considering the fact that the Bills aren't making it back to the playoffs, Gailey should allow OC Curtis Modkins the opportunity to call a game. Let's see how he does calling Gailey's offense. If he doesn't do a good job, then use the upcoming off-season to find a new coordinator, while you're looking for the new QB.
Let's face it, the Bills aren't going to get rid of Nix and Nix isn't going to send Gailey packing, but something needs to change. Is my suggestion of a play-calling Offensive Coordinator going to be the fix-all? Absolutely not. Hell, it might not work at all. It's unfortunate that things haven't worked out for Gailey or for Fitz this season, but I think it's even more unfortunate that I'm already trying to figure out what they are going to do in the offseason.